In the fabrication industry today, one of the most ignored pieces of machinery is the ironworker. Most fabricators turn to individual machines to bend, cut and punch while the ironworker has the capability of doing it all. Ironworkers may not have the same processing speed as some larger machines however materials can be punched, sheared, notched and formed on this relatively low-cost machine which only takes up a small amount of floor space. Many job shops that require custom products, ones that don't necessarily fit the norm, would greatly benefit from the ironworker as it would be able to handle many of these constraints due to its multiple capacities. All in all, the ironworker can play a big role in the fabrication process by providing multiple operations in one machine.
One of the most reliable ironworkers on the market today is the Geka. With its different models being offered- Single cylinder, Bendicrop series, Hydracrop (Dual Cylinders) series, and punching machines, anyone can find the right fit for their business.
GEKA single-cylinder Punching machines are compact, economic, versatile and productive. The single-cylinder models are the Microcrop, Minicrop and Multicrop. These models are equipped with the classic workstations (punching, notching, cutting, cutting angles and flat bars.) The Multicrop machine includes a special station for cutting at 45º on angular profiles as well as those inwards and outwards.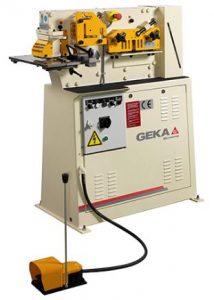 The Bendicrop Series are the only hydraulic ironworker machines that incorporate a bending station. These machines are more complete than conventional ironworkers because they can perform bending tasks in a simple and safe way. In many cases, they can help relieve capacity constraints in a shop's press brake department. There are a few different models – Bendicrop 50, 60 and 85. Each offers a variety of capabilities with excellent performance.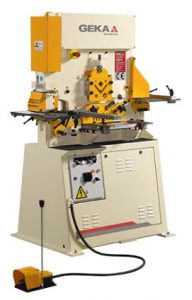 The dual-cylinder Hydracrop series by Geka offers 5 different models. These punching shears are very versatile machines with the capacity to transform all different types of sections and steel flat bars. The HYDRACROP family has 5 workstations and 5 tonnage levels.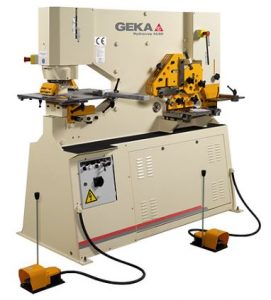 Geka's punches consist of the Puma Series and PP Series. These machines have been developed based on the experience of users. The Pumas have special characteristics that make them a resistant machine and able to meet all production needs. The PP Series are portable punches that have 50 tons of punching power.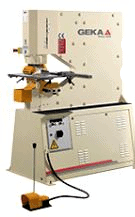 Geka automation offers CNC solutions to fit various needs of fabricators. These CNC solutions for Geka punching and shearing help optimize production processes of the ironworkers increasing production and reducing costs. These models include the Semi-PAXY, PAX and ALRS. Geka's Semi-PAXY unit is equipped with programmable stops along the X and Y Axis. This product line brings the very latest in CNC automation and positioning technology to punching steel.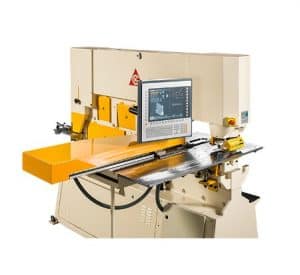 Why is Geka is considered a "Top Notch" ironworker?
– World leader in punching and shearing solutions
– Proven quality, design and craftsmanship
– Great versatility
– Continuous innovation
– Complete after sales service
Federal Equipment would love to discuss how a Geka Ironworker can benefit your business. We also have factory-trained service technicians on staff who can repair or completely recondition your existing Geka. Let us know how we can help! Call us today at 631-467-9400 or email sales@federalequip.com
By Darlene Spielman, Marketing Manager, Federal Equipment